Chicago Baby Photographer | Baby Portrait photographer
Welcome! I am a Chicago baby photographer, capturing the heartwarming moments of little ones. I also photograph toddlers, siblings, and kiddos throughout the greater Chicago area.
Baby photos take place after the first two weeks of a newborn's life. If newborn photos aren't an option, but you would still like to photograph your baby, starting at 3 months would be a perfect beginning to documenting your little one's life!
 Baby photography Expert | Professional baby portraiture
Baby photography seems to be getting more and more popular! Even in a time when we have so much access to photography and videos, on our phones and handheld cameras, it still is important to have a professional capture your baby. A professional baby portrature (or photographer) will have special tricks for capturing the perfect smiles. They'll know how to overcome any little obstacle that comes up during your session. We are skilled at seeing when a happy moment is about to happen, and capturing it.
Printing your baby photographs
Printing your photos to share with grandparent, family, and friends is never easier these days. There are card companies and printing houses online that provide amazing deals. You can also print at your local shopping stores for just a few dollars. However, many local print locations provide only small size prints with medium quality and resolution. Their larger sized prints are printed on industrial printers that provide low and blotchy printing.
Instead, use a custom printing source. One that can handle very high resolution files, and prints on inkjet technology that allows for photo sealing. They should also have options for high quality canvas and photo papers of different gloss strengths.
Every gallery I give you has the option to purchase prints from White House Custom Color, one of the top printing sources in America. Not only do I test and recommend their prints, but I also use them as my personal printing source for around the house!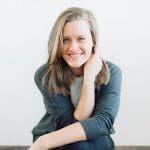 Abigail is a Chicago baby photographer specializing in Newborn and Maternity photography.
Her work encompasses Baby, Children, and Families throughout Chicago and the surrounding areas.