Going for a new look
In the past, I've always been really drawn towards the outdoors, the scenic, and the greenery that provides the most amazing romantic maternity sessions. Usually this involves sunsets, couples, and fun little corners I've discovered around the area that I can put my couples in, and shape beautiful light around them!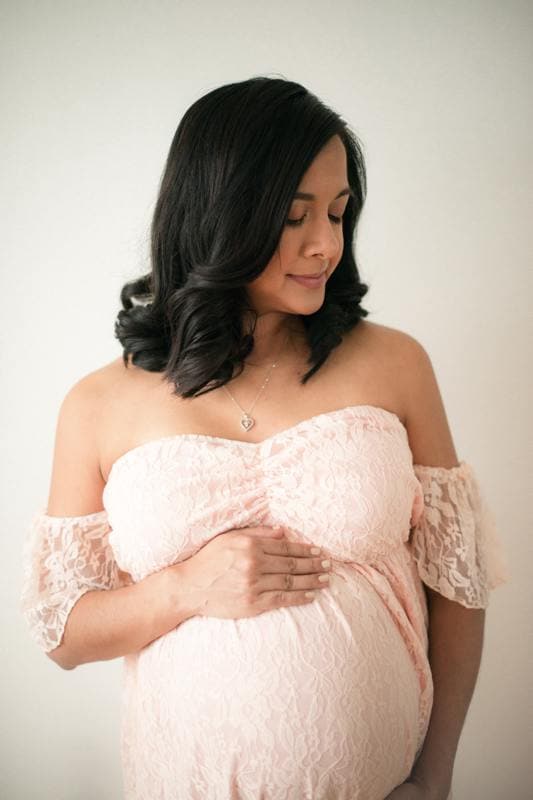 But things are changing
In a good way, though. I've found that while I still love the amazing outdoors, there is another great option that indoors provides. And yes, I'm really drawn to this simple, focused, style.
The right window light, and diffused the right way can make an amazing image. I didn't have to do much to craft these photos, but simple brought Marette to the window, and just began to capture.
How this session came about
I had been working on gathering a selection of gowns for my expecting mothers, and I had finally a shipment arrive with several of the options I had ordered. I happened to see that a previous client of mine was expecting, and was already 35 weeks along, so I thought this was the perfect opportunity to ask her to model for me. In exchange, she received the photos and I was able to try something new without the risk of surprising a client with something they weren't expecting.
Marette is a blogger and a mom of two now! You can check her blog out at Maretteflora.com. Plus, she has a few additional photos from our session that I didn't get to posting:)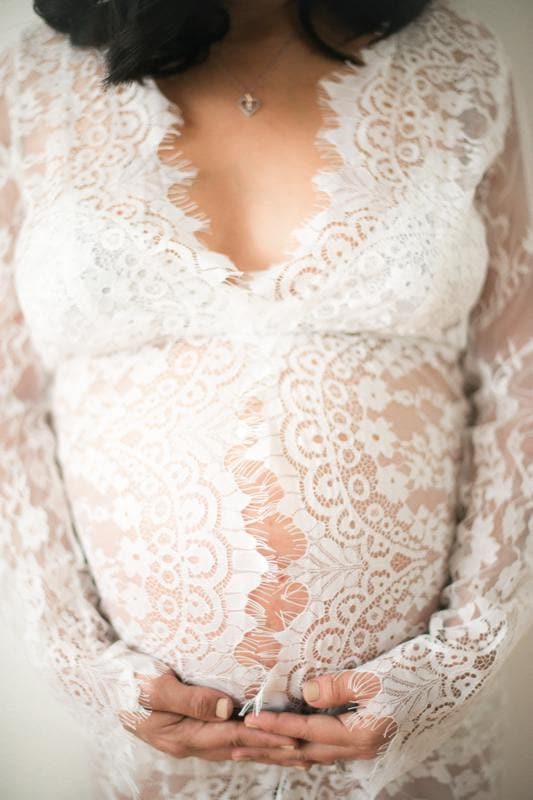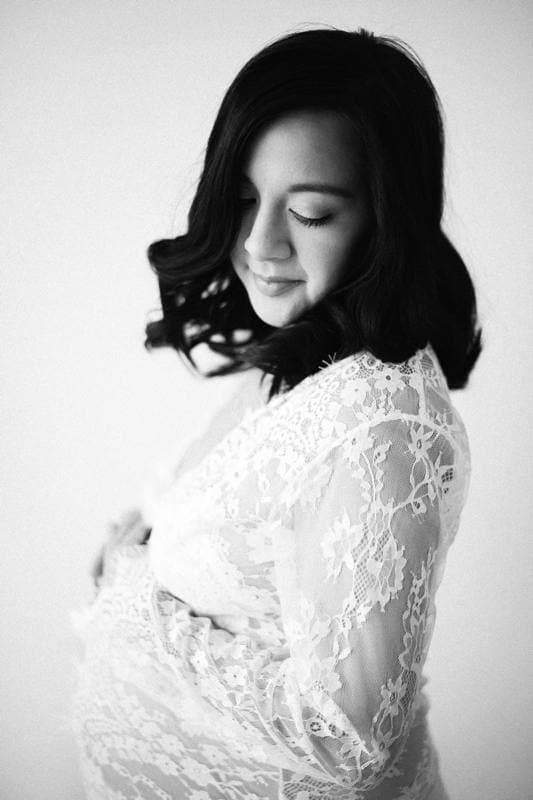 My thoughts on the window light
I've done these types of window light sessions in the past and have had some amazing results. So it's a little crazy that I'm just now feeling comfortable with this style, and have added it to my normal day to day workflow! In the 6 weeks since this session, I've included this really fantastic look into almost every newborn and studio session!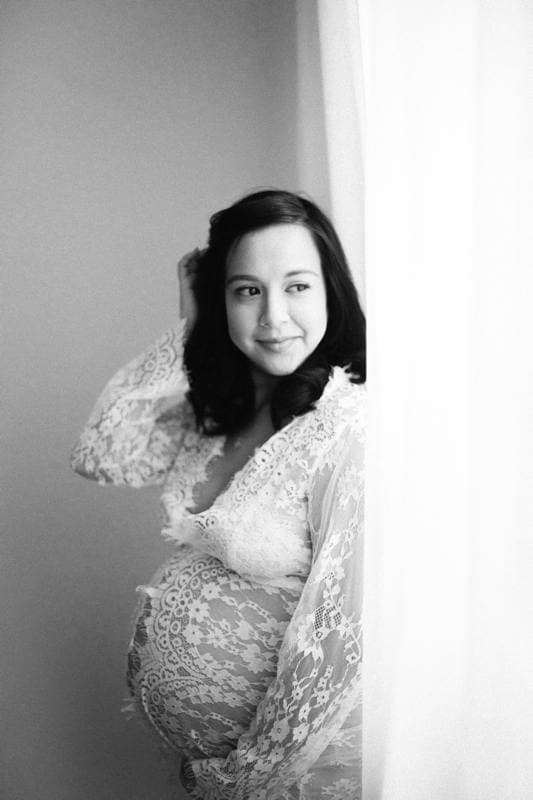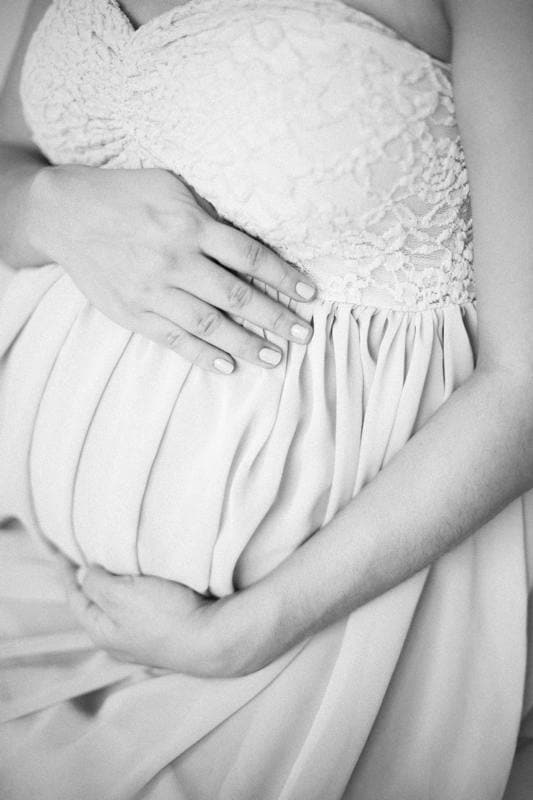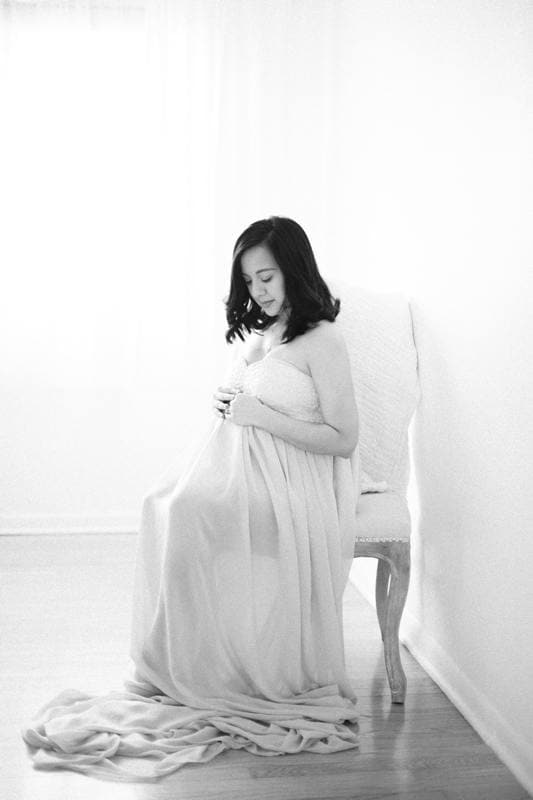 Velvet Maternity Dresses are amazing:
I've fallen in love with the velvet maternity dresses, and I am pretty sure you will too!
Now that this busy busy fall season is over and the holidays are almost over, I can finally sit down and write to you. I met with this gorgeous couple a few weeks ago, who I was able to get to know in the hour that we met for our maternity session. The mom wore this beautiful velvet dress which she told me was from Pink Blush. Pink Blush is a new store online that has dresses, tops, etc and maternity gowns all with the new trends. I was so excited when I saw the dress she was wearing, I mean hello, velvet dresses are amazing. I was curious to see how it would photograph, whether or not it would reflect odd, but it did no such thing and the photos turned out perfect. I am hoping to see more and more velvet dresses for maternity sessions in the future! I think its the perfect type of dress for winter session right now. If you see any awesome velvet dresses online or in store please comment below the link so I can help my mamas to be with their outfit choices for their maternity session. Or if there are other dresses you love that would be perfect for a maternity session please let me know, I love looking for inspiration.
I hope you all enjoyed your Christmas! I spent time with my family and ate lots of cookies. My husband surprised me with an Addi Express machine which is a loom that I can crank to create swaddling wraps and hats (for my newborn sessions) within a few hours instead of a few days of working. Amazing! I can't wait to try it out.
xoxo
Abigail Joyce Photography | Chicago Maternity Photographer
Can you say Enchanting?!
I am in love with maternity photography, and I think I've mentioned this before. I've begun to lean towards the more enchanting maternity photography styles, where the expecting moms get to dress up and experience a night full of bliss and excitement towards this special time.
Enchantment, meaning:
1. To subject to magical influence; bewitch:
2. To delight to a high degree
3. To impart a magic quality or effect to.
I know you don't need a grammar lesson from me, but I wanted to share something with you. I want you to pour yourself into this session just like I did.
Enchanting maternity photography in the forest:
Maternity Photography is only the start
Abigail provides beautiful and enchanting maternity photography for her clients in the Chicago and surrounding areas. Her work is romantic, filmic, and shows the emotion and love that an expecting couple are feeling towards their upcoming little one. Abigail is a top chicago newborn and maternity photographer that specializes in beautiful sunlit scenes.
Email: Abigail@abigailjoycephotography.com for inquiries, scheduling, and confirmations!
This is an amazingly Romantic Maternity Session, don't you agree?
I am always blown away by how romantic maternity photography can be. These sessions are always so dreamy! And I am obsessed with the spring colors! I just There were so many different colored leaves to pick from for backdrops in this setting. I can't even pick a favorite to photograph, they are all beautiful creations from God. And I love being able to combine it with God's newest precious gifts - new babies.
"As you do not know the path of the wind, or how the body is formed in a mother's womb, so you cannot understand the work of God, the Maker of all things." Ecclesiastes 11:5 NIV
Does that verse not exactly describe this gallery of photos?
God's design of the trees (and all of creation), the path of the wind, and how pregnancy works. We can't being to understand, but we can view it and adore it. We can give admiration and praise to our God.
Every time I look at these photos, I am in such awe of how our Maker of all things has designed the Earth.
Locations for Romantic Maternity Photography:
Okay, there are so many places around the Chicago area and surrounding towns, but there are only a handful of places that can create such amazing and romantic maternity sessions.
The first locations has to be the Morton Arboretum, in Lisle, IL. I provide a lot of sessions to areas in the suburbs, including Lisle, Hinsdale, La Grange and Elmhurst, but by far and away, Lisle's Morton Arboretum is A.M.A.Z.I.N.G!
It's all about the time of year, too!
Spring Maternity Photography is about timing;)
Okay, here's the list:
You have to be pregnant
you have to be pregnant in Spring
You have to be pregnant in Spring, live in driving distance to the Arboretum, have a photographer that has access to the permit system, apply and receive your permit, and of course have the perfect sunset.
All of the above, but it has to be on a WEEKDAY!
So why the list? Well I absolutely love photographing here, but it doesn't always work with client's schedules. If it does though, I highly suggest we plan your romantic maternity photography around this location;)
Location Location Location...fees?
Yup! There's always a fee for everything right? Fortunately I don't require that we meet here, but if you do, we definitely need to apply for the permit. It does cost an additional $50 (as long as it's just the 3 of us) which is a discount I can get due to the membership I have with the Arboretum!
So check out this amazing romantic maternity session that we photographed at the Morton Arboretum!

Abigail provides amazing romantic maternity photography for her clients in Chicago and the surrounding suburbs. She is a well known Chicago newborn photographer, and also provides expecting moms both maternity and newborn photos. You can view her collections here.
Email: Abigail@abigailjoycephotography.com for inquiries, scheduling, and confirmations!
Surprise! Maternity photos work even in your home.
I've been photographing maternity sessions for a while now, and every now and then I find something new about the work that I've done. In this case, I was a little unsure about photographing a maternity session in a house that I've never been to or seen the light quality. But these maternity photos changed my mind!
Family photographer to Maternity photographer?
Normally it's the other way around!! I have been meeting with this family for the last year every 3 months. It's been surreal. I feel like I'm apart of their lives in a small way. I get to watch this family grow and become bigger. I see more and more of little Sam's personality come out. I am so blessed to get to know my clients and call them friends. It's always been a dream of mine to eventually feel close enough and to get to that point. And now I am feeling even more blessed that this sweet family has another babe on the way! More years of sweet sessions are in my future. Can you believe it?
So where was these Maternity Photos taken?
This family owns the space we were photographing in for their maternity & family session. They hadn't moved in any of their furniture yet so we had the space to ourselves to run and play and get the most beautiful well-lit indoor location for photos. I'm just sad I wont have it for any other expecting mamas. But I love the idea of having these special photos done for them in their new space.
Did you love these maternity photos?
I provide in home and on location maternity photography for moms around the Chicagoland area! I meet with you at beautiful scenic locations, and yes this can even be your home. I do make sure that we'll have the proper lighting in your home for these maternity photos to work. I do believe that you'll love having maternity photos in your little one's nursery, showing how much you can't wait for them to arrives. Imagine this next to the photos of your little one after they are born! Don't forget to check out my newborn photos for amazing ideas and inspirations:)