Going for a new look
In the past, I've always been really drawn towards the outdoors, the scenic, and the greenery that provides the most amazing romantic maternity sessions. Usually this involves sunsets, couples, and fun little corners I've discovered around the area that I can put my couples in, and shape beautiful light around them!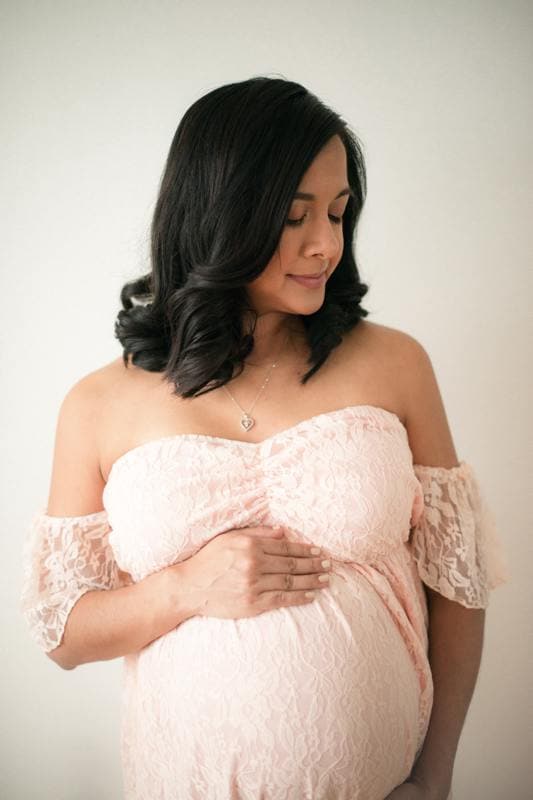 But things are changing
In a good way, though. I've found that while I still love the amazing outdoors, there is another great option that indoors provides. And yes, I'm really drawn to this simple, focused, style.
The right window light, and diffused the right way can make an amazing image. I didn't have to do much to craft these photos, but simple brought Marette to the window, and just began to capture.
How this session came about
I had been working on gathering a selection of gowns for my expecting mothers, and I had finally a shipment arrive with several of the options I had ordered. I happened to see that a previous client of mine was expecting, and was already 35 weeks along, so I thought this was the perfect opportunity to ask her to model for me. In exchange, she received the photos and I was able to try something new without the risk of surprising a client with something they weren't expecting.
Marette is a blogger and a mom of two now! You can check her blog out at Maretteflora.com. Plus, she has a few additional photos from our session that I didn't get to posting:)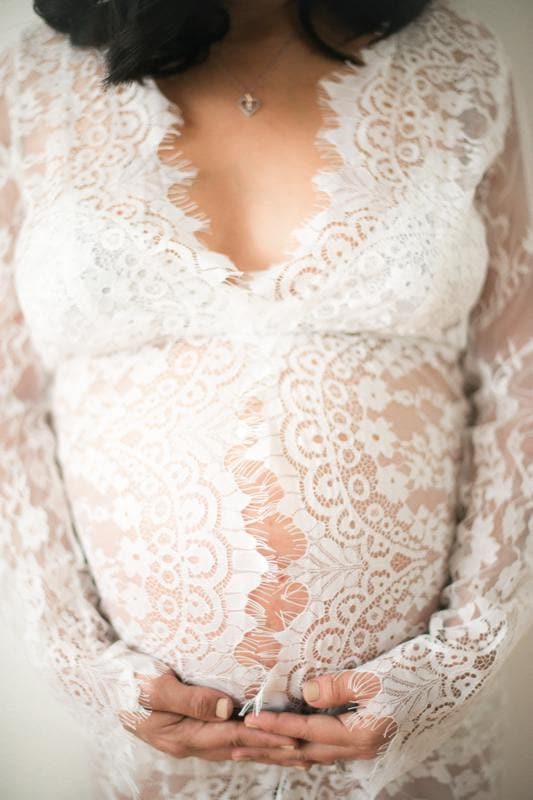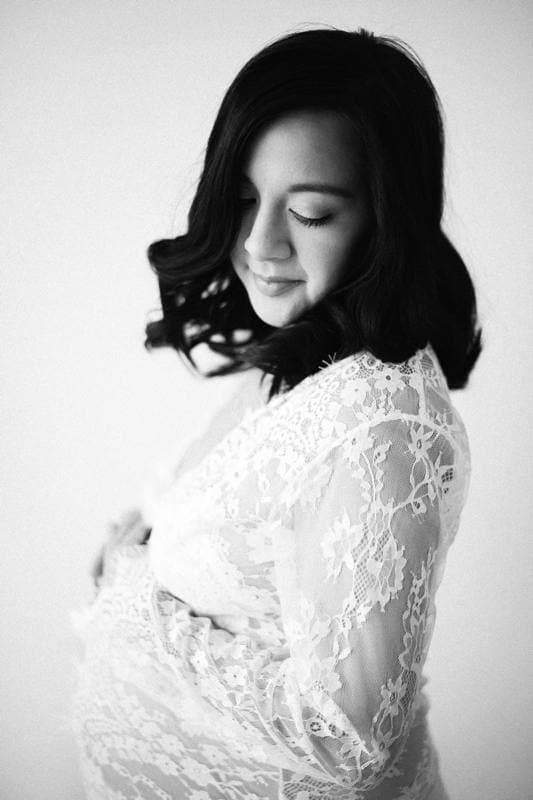 My thoughts on the window light
I've done these types of window light sessions in the past and have had some amazing results. So it's a little crazy that I'm just now feeling comfortable with this style, and have added it to my normal day to day workflow! In the 6 weeks since this session, I've included this really fantastic look into almost every newborn and studio session!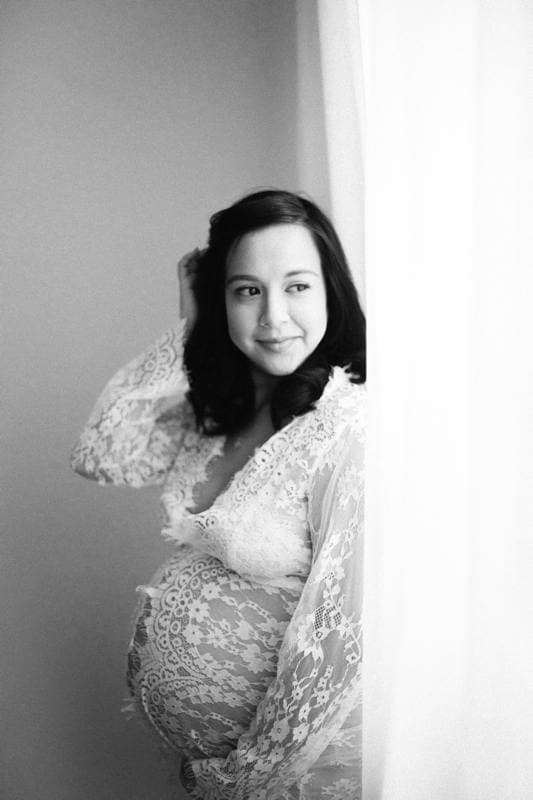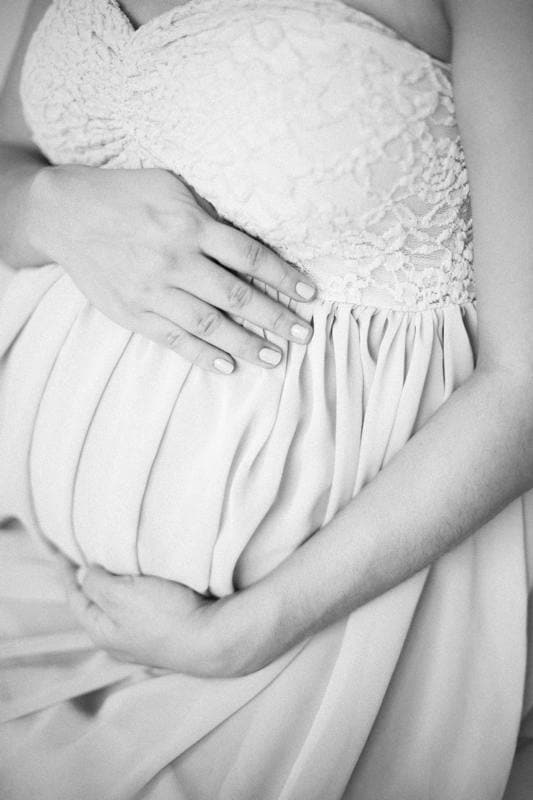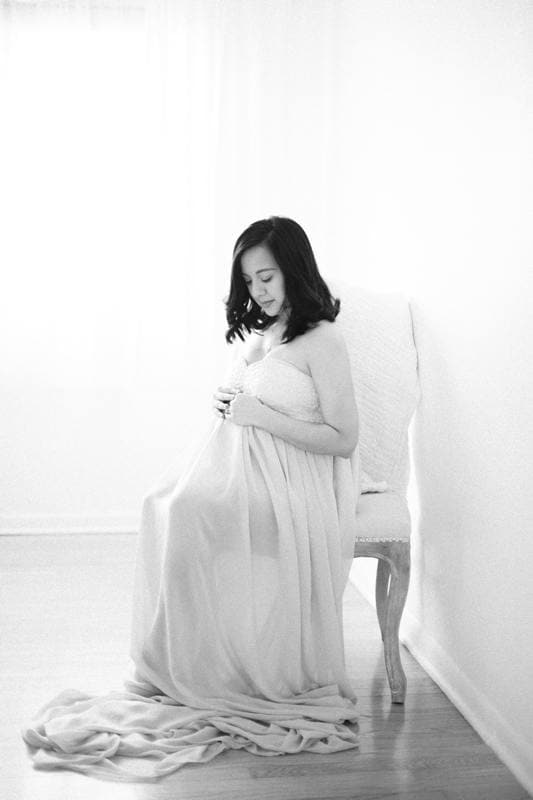 The mommy and me session began with headshots
I made a model call for a Mommy and Me session, and it was amazing! Here's how it went...
My husband was pretty adamant that I get my headshots updated, but we wanted to try something a little different than the studio lighting.
So we decided to use the dining room where the afternoon light was filtering through the windows. We have all white walls, so the light just bounced around, making everything so soft and beautiful! I've designed my living room as a comfy zone, plus a great space to photograph in for certain sessions. It didn't dawn on me that the lighting in the dining room next to it would produce such soft photos.
After the headshots, I just fell in love with this incredibly soft look that we could get using just the window light! That's when I got the idea..
I started purchasing dresses for a Mommy and Me session.
I knew that I needed to keep the dresses stretchy and overall flexible for different types of sessions. Of course the Mommy and Me was the first on my mind, but I wanted to start collecting maternity dresses too. So each dress I made sure it could work for both! It was also important to get dresses that were light colored to keep the whole scene consistent.
Below is one of the dresses I purchased for the Mommy and Me sessions!
Next step, Model Call.
Instagram is a really great place to get to know people, but also to make these model calls! If you haven't already, feel free to follow my instagram, I mean, that's where you might find a free model call or session;)
I mentioned the need for a model in an Instagram Story, and I got a lot of people messaging me immediately. So it wasn't even an official model call on Facebook or my website, it just kind of happened! Side note, I've got a few more special sessions planned for this year that I'll need models for. So keep an eye out for the announcements!
The baby was six weeks old!
So most of my sessions are in the first 2 weeks after birth, then starting again at 3 or 6 months to show how fast the little one has grown. It's so hard to tell a mom that we can't do a newborn session because their little one is just too old. But that's what's so amazing about this Mommy and Me session!
This session was a breeze, and it looked SO good! It got me really thinking about how this would be such a beautiful session for all my moms out there, not to mention it will look amazing as a printed canvas. All that beautiful contrast and brightness.
Yay for trying something new!
I've always wanted to do Mommy and Me sessions, but I've never really had such a strong vision that I wanted to explore with them. I think the takeaway is that I really need to explore, try a new style and look, and be open to new ideas.
I really love deep contrasty and cozy scenes, but I'm also falling in love with the bright and airy feels. My maternity photography has been romantic and rich in tones, especially during summer and fall. So branching out into bright, soft, and airy was a refreshing experience!
So where does that leave the Mommy and Me sessions?
I definitely want to make this available!
On a personal level, I just love finishing one of these sessions, and seeing the results pop out at me when I go to edit them. There's a lot going on with the business right now, so it may take some time to make this an official shoot option, but it's definitely one of those "off the menu" items that I'd love to share;)
Check out this sweet momma's Mommy and Me mini below!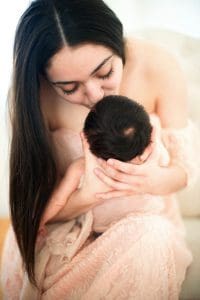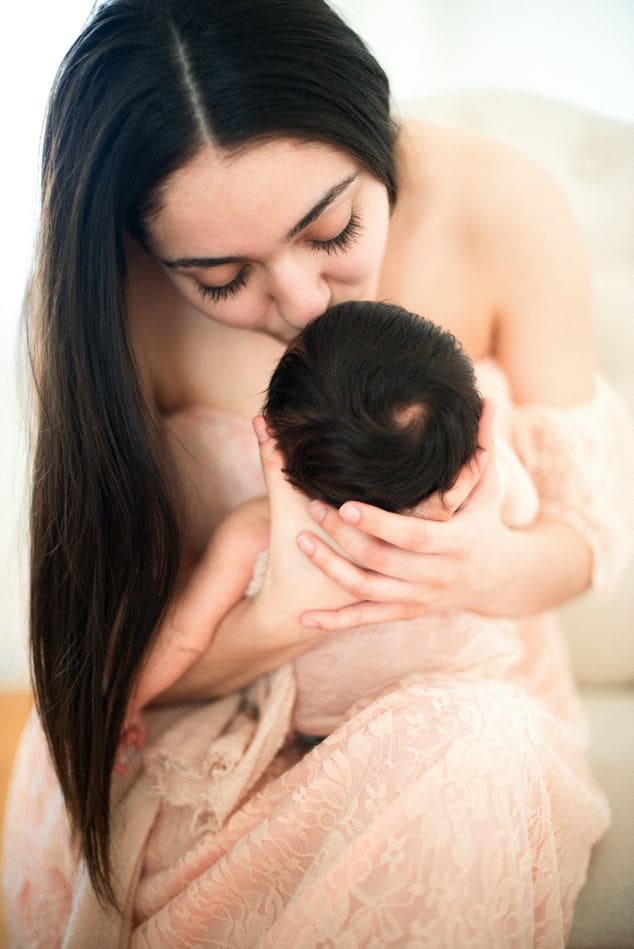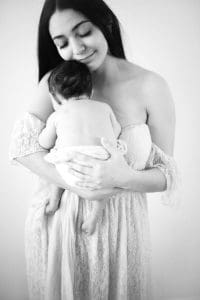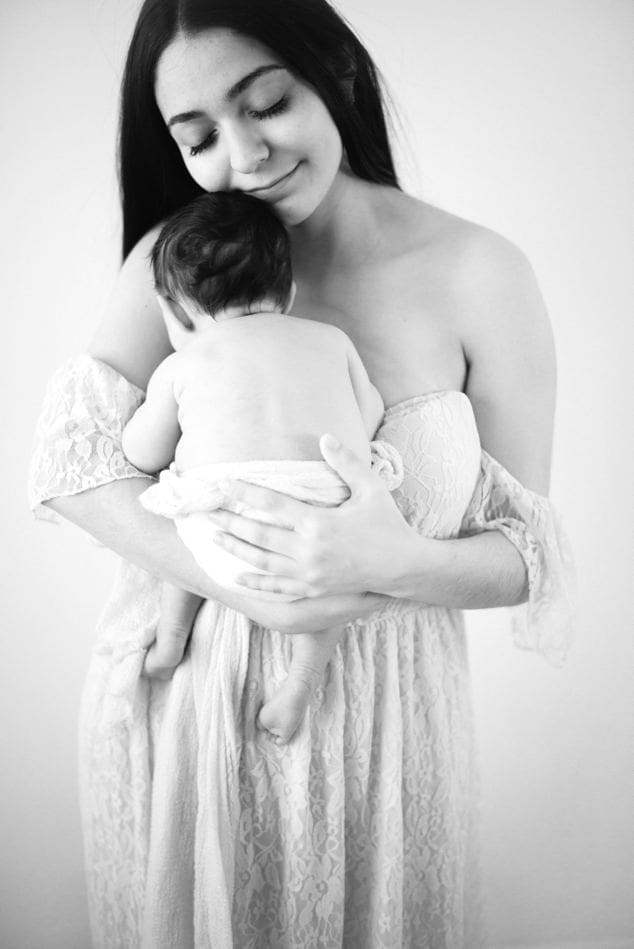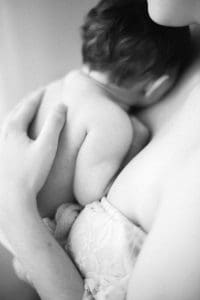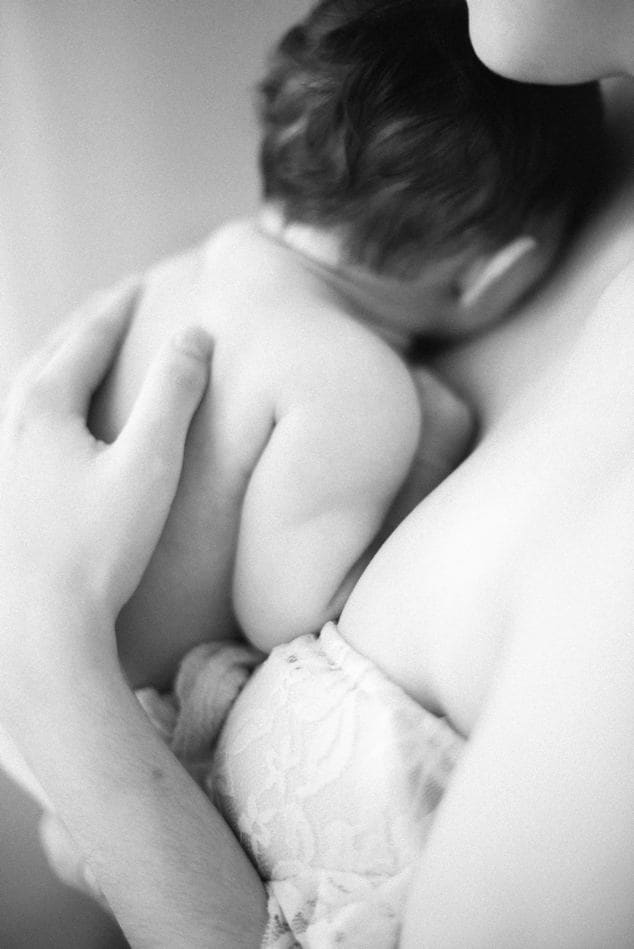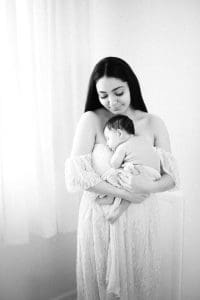 How I provide Stylized newborn sessions for my clients:
Developing a stylized newborn session for each of my clients comes with a bit of work. Here's how it starts:
When a client emails about a newborn session, I ask them a couple of questions about their preferences with colors and the scenes they would like in their newborn package.
I get a variety of responses, but normally I hear things like "neutral tones" "nude colors" or "ivory and sage". This is a start, but I also need to know if they are a bucket, box, blanket, infinity, or bed type of session. I'll ask for a few reference photos if I am not already aware of their style, and this can help me put together a session that they will love.
Part of my process of creating a stylized newborn session, involves creativity and a willingness to try something different. It may be a different prop, a different color combination, or just taking away colors for a focused direction.
This client in-particular (like a lot of my clients say..) said "I trust you! Style the set ups the way you think would look beautiful" and my brain nearly explodes with excitement. I know it's a really small thing, but it's the most enjoyment for me to stylize the newborn session to what I feel in the mood for, and what I know would look amazing in a gallery on my client's wall.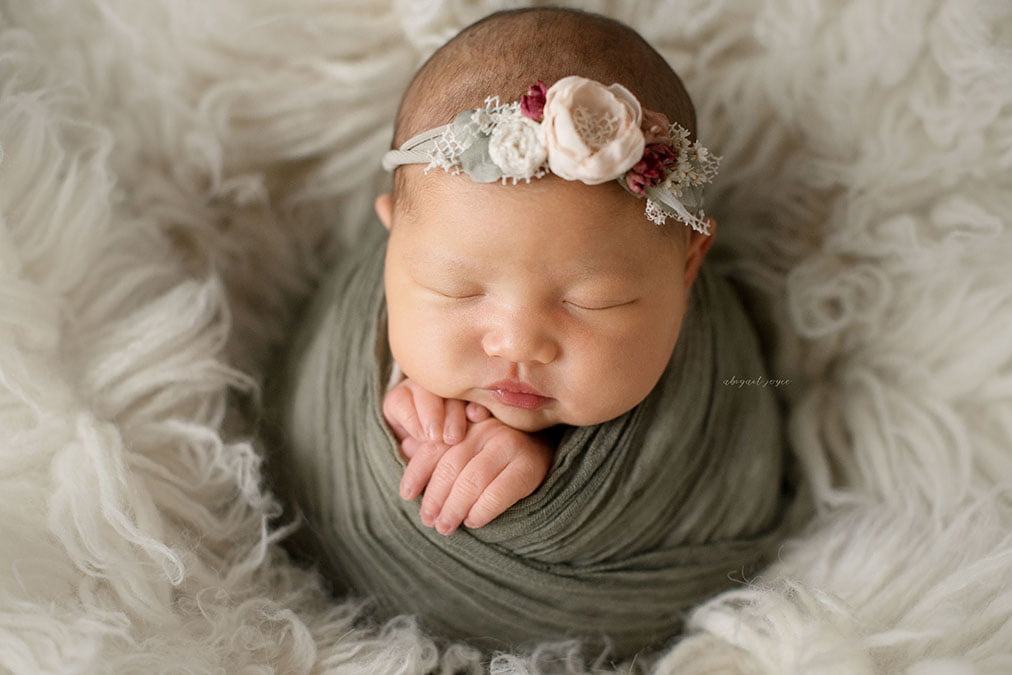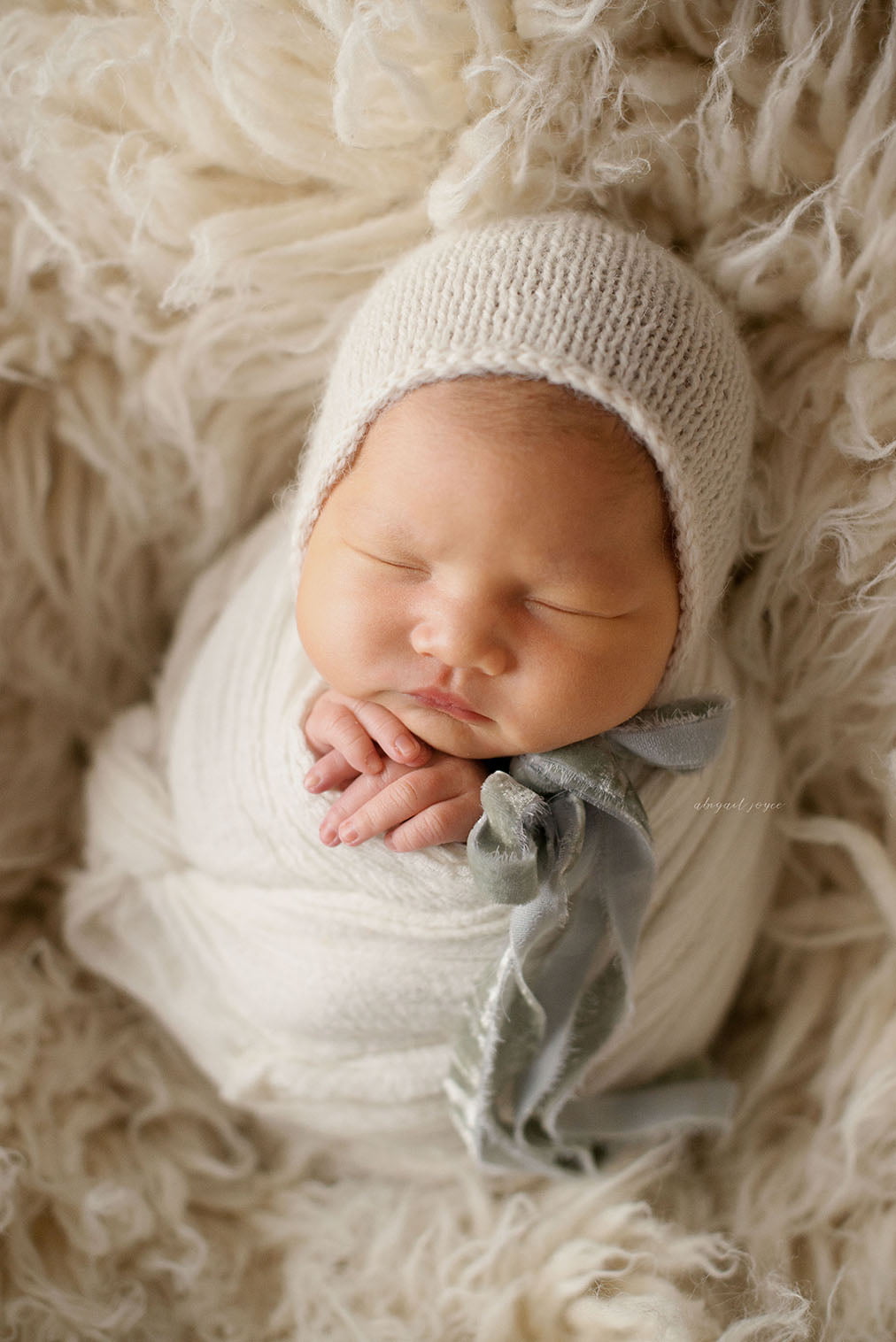 Why I switched from the new stage to old reclaimed wood for my newborn sessions!
So, big news, a couple weeks ago my husband Ben and I renovated my home studio in Westchester, IL where I meet all my beautiful little newborn sessions.
We completely changed the entire room, and updated some of the furniture and added a couple of new pieces as well. This has been an ongoing project for a couple years now, testing wood samples, trying specific styles, looking at the option of creating or developing our own wood, and the verdict is in!
There is no substitute for the real thing.
Yup! I wish I could say that the previous wood was amazing and the hard work it took to distress it was something that made sense, but over time, and the shift in colors, it just started to feel dingy, dark, and not the right kind of distressed that I had envisioned. The reality is that it just needed to be the real thing, and the real thing is both difficult to acquire, manipulate, and expensive! No wonder most photographers like the cheaper options of roll-up backdrops. I've been there, and it works in a pinch, but there is nothing better than the real thing.
The Hardwood Difference
What's so different than before? Asides the aesthetic and softness of the wood, one of the biggest changes was to remove the stage aspect and make this directly on the floor, then bring the back wall up to about seven feet. This allows for full body family shots, and the addition of the corner wall allows me to photograph direction into the corner. This is perfect for kiddos and when I need to move around to get the right angles, I now have two walls of hardwood to shoot into!
The wood is about 100 years old, and pulled from buildings right here in Chicago, denailed and then processed into planks that are attached to the walls and floor. Eventually I'll use some of the same batch of wood for shelving and boxes, and hopefully get some helpful comments on how to add some greenery to my studio:)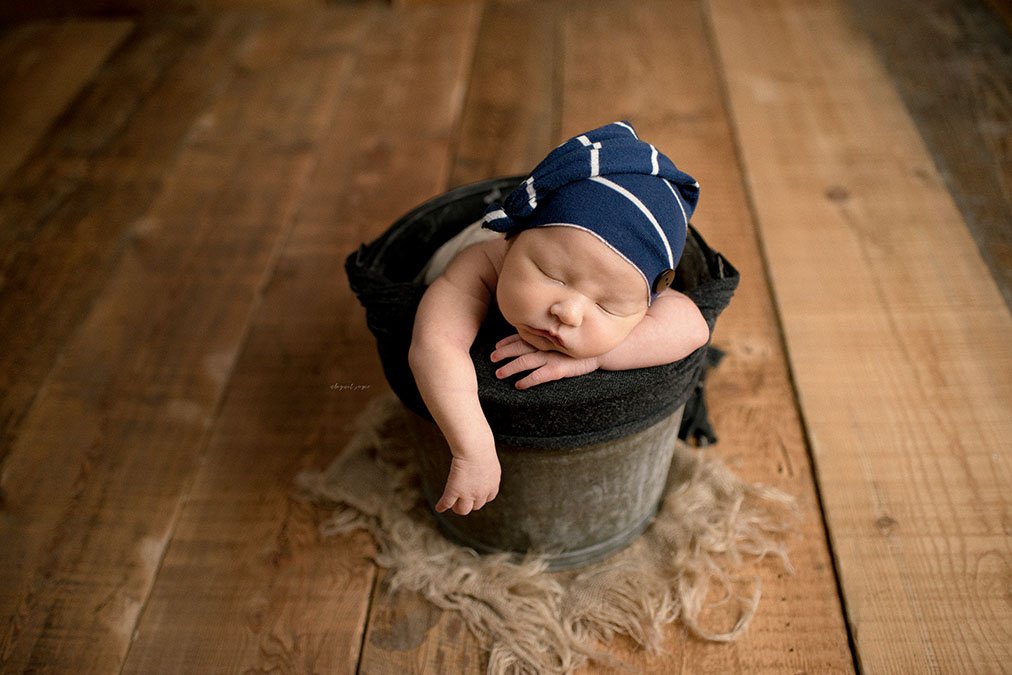 PS! I filmed the whole process and will share it soon, right here on my blog!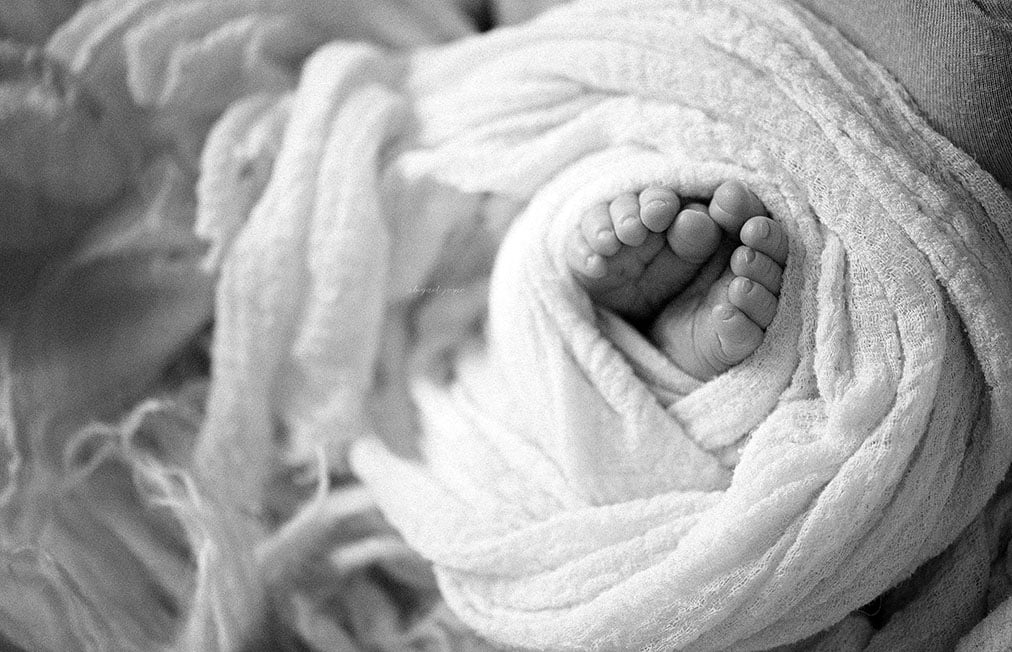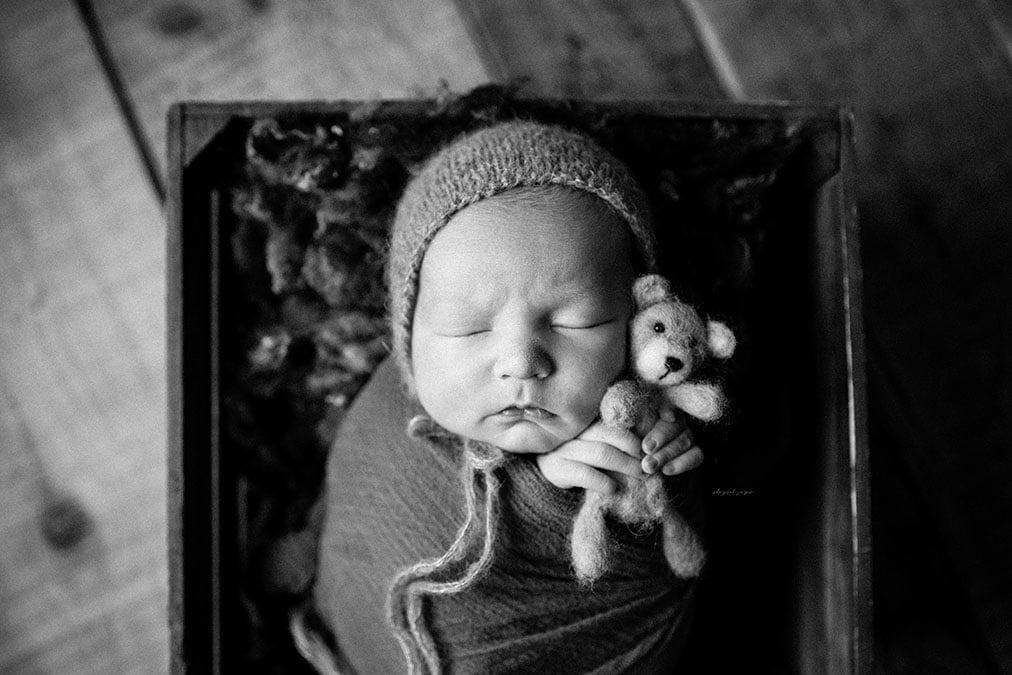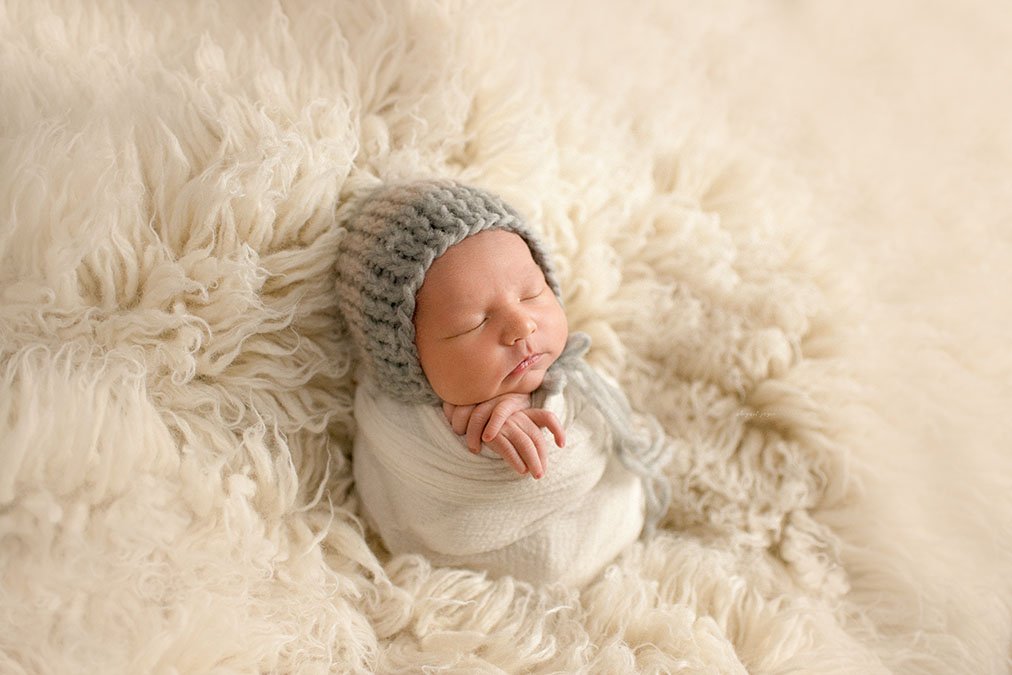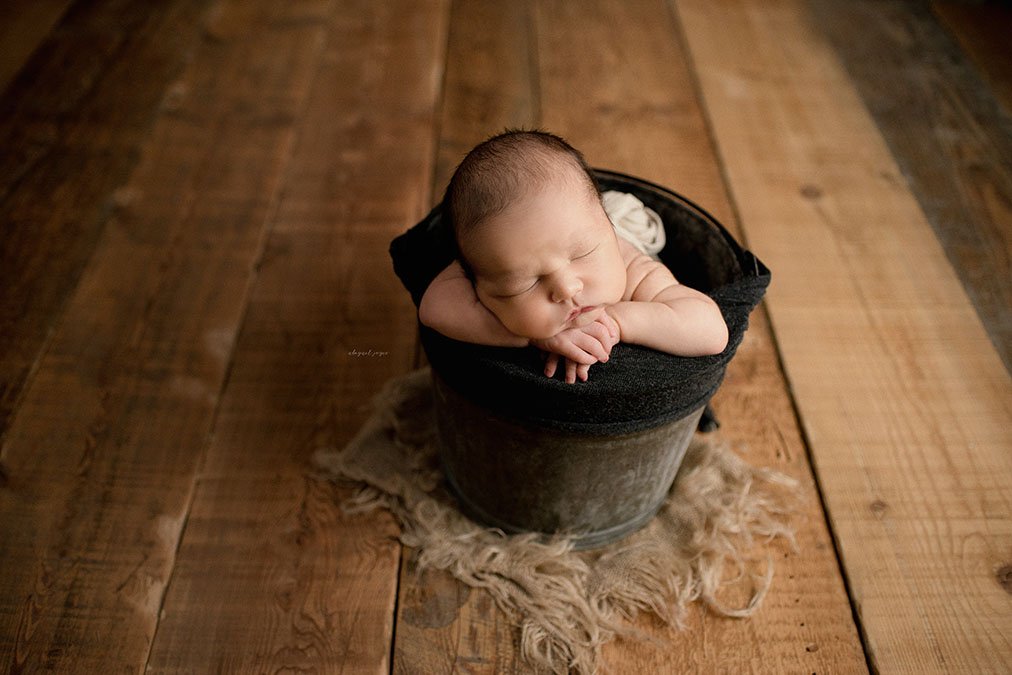 Abigail is a Chicago based newborn and maternity photographer. She specializes in capturing a timeless and simple look that will be a mounted masterpiece on your wall. Newborn sessions are the best way to capture and remember the fleeting moments of your child's earliest days. As newborns grow so quickly, the approach Abbey uses, tells a story of the peace, stillness, and the quiet moments of a little one's first beautiful days in a big new world! Abigail serves Chicago, Hinsdale, Downers Grove, Western Springs, Elmhurst, Evanston, and Oak Brook, IL. She provides both Traveling Newborn Sessions as well as her newly developed Studio Approach, which provides a controlled setting, peaceful atmosphere, and the most amazing looks, which are difficult to provide anywhere else.
Valentine Mini Sessions | Chicago Baby Photographer
Hi friends! I can't wait to get this Valentine Mini Sessions started for you all.
Mini sessions in general are so fun, but what's better than a Valentine Mini session? For the past several years, I've been wanting to put together a something like this, especially for so many of you that have come to the studio! In the past it's been hard to find the time to plan, and put something like this together, and I can now finally release the information for it!
I love the simplistic look of the white backdrop mixed with the contrast of the red rose petals. I used real petals for the mini session below which I felt brought a nice detail to the photos. I have listed below the information about when, where and how much. Clients that sign up before Thursday January 25 will receive the discounted mini price. The full amount is due at the time of booking to secure your spot. Please note that if you have an unpaid deposit, that I wont be able to hold your time slot for you. You can pay either through Zelle Quickpay or Paypal! Please email me at abigail@abigailjoycephotography.com for the full signup and information email to get started with your booking:)
PS. The red velvet dress is available to use in the studio along with some other beautiful dresses, just email to see the collection! I can also help stylize your mini session if you need some guidance on clothing options.